Sign Language for Skunk

To convey the word skunk using sign language, use your hand
to make a "K" as shown below and move your hand from front to
back, over your head the way a skunk's stripes would go over
his head and down the back of his body.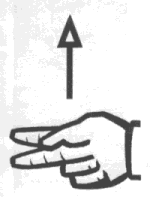 ---
Webmaster: Tacy A. Kessler. Copyright © 2001 OOPS, all rights reserved.
Images, artwork, and verbiage are the sole property of the designer and
may not be used in any form without express written permission.