Canada! Oh Canada!

Dedication

| | |
| --- | --- |
| This page is dedicated to all the Canadian rescues and to whomever found a place in their lives to take them in and give them a great home! We couldn't have accomplished this award winning rescue without all the help and kindness from people near and far. The Canadian skunks graciously thank you all for giving them a second chance at life! | |
Canadian Skunk Rescue Helpers
Below are pictured some gracious helpers that showed up to clean the farm where we kept the Canadian skunks for about ten months. For all of them it was not their first trip to the farm. All pictured here were there several times before to help feed, clean cages, and lift the spirits of the skunks awaiting new homes. Thanks to all who showed up and worked really hard on that steamy day in May!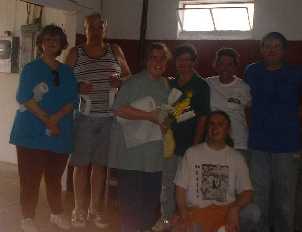 Top »

Canadian Skunk Photo Collection
We would like to post pictures of the Canadian beauties here. If you want to post a picture of your Canadian skunk here, please send a graphic file (jpg, gif, bmp) to Owners Of Pet Skunks and designate it for the Canadian Photo Collection.

10 Weeks Old
Petunia
Friendly Girl


Naptime!
Emma
Gracie
Skunk Shuffle


Candy
Shawano
Neighbors
Descenting
Top »

The Freedom Team and Their Mission of Mercy
Times were tough in the skunk world. Their was still no approved Rabies vaccine for skunks, government officials were as confused as ever, bickering and lies were rampant on the Internet, and laws were changing (not for the better). Owners were growing tired of the never-ending battle to protect their pet skunks from harm. But out of these chaotic influences, a group was banding together to form a team of rebels to fight against the tyranny of the land. This group of skunk activists became known as the Freedom Team.

The Freedom Team is devoted to protecting captive-bred skunks from harm. Many strove to protect their own pets and help others solve similar problems by sharing their personal experiences. Assisting skunks and their owners encompassed most of their waking hours. A passion grew in its members every time they became involved with another skunk episode. And with aiding skunks as their goal, their first mission promptly presented itself.

There was this domestic skunk breeder in Canada. He was determined to be the premier breeder in his country and make a bundle of money on breeding skunks for pets. He did not heed the warnings of those that had bred exotics before him. He forged ahead and obtained the permits and licenses he needed. The government informed him that they planned to outlaw the breeding and possession of skunks in his area. Convinced he could change government minds, he charged ahead collecting as much breeding stock as he possibly could. He bought out many other breeders in the surrounding lands. Eventually, the government got its way and this breeder was faced with putting hundreds of skunks to death.

The Freedom Team got wind of this and debated the details of the rescue for hours. Could they save hundreds of skunks? How would they transport them? Where would they put them? Were they healthy or sick? How would the skunks handle the stress of the move? Were there any babies? Were they descented? How would they cut through the mounds of paperwork involved with doing it legally? How would they find homes for all of them? How would they fund such an undertaking? The Freedom Team decided that no matter how many roadblocks presented themselves, they had to rescue those skunks.

This would be the rescue of a lifetime for many on the Freedom Team. Every member needed to do his or her part, and do it well. Drivers were recruited to transport the skunks and their cages. A place was found to house the animals. Food obtained to feed them. Many started hunting good homes for them and a gracious volunteer offered to descent the loaded ones. The officials were notified of the team's plans and all the paperwork completed. All the pieces just seemed to fall into place. The Freedom Team was performing like a well-oiled machine.

The skunks were ecstatic to see the Freedom Team arrive. They knew that a better life was on it's way to becoming a reality. Most of them were scared, but there were gentle humans there to help and treats to eat along the way. When they arrived at their temporary home, there was a flurry of excitement in the air. They were glad the long trip was over. The food was great compared to what they had been getting and treats and exercise were a common spirit lifter. Many of the skunks were developing a camaraderie with their pen mates. Faithful caretakers came by a lot and made them feel less lonely with kindness and conversation.

Then came the time for some to say good-bye. Many skunks were going out to new homes. They were sad to be separated from the friends they had made, but knew that wonderful, loving homes awaited them. Grateful for a second chance at life, many left with thankful hearts. But for those that remained, hope for a new start was always on their minds.

As members of the Freedom Team still search for welcoming homes, faithful caretakers lift the spirits of those that still remain, and life continues in the skunk world. Rogues and terrorists try to foul the work of the Freedom Team with no avail, and their mission of mercy continues.
Top »

---
Webmaster: Tacy A. Kessler. Copyright © 2001 OOPS, all rights reserved.
Images, artwork, and verbiage are the sole property of the designer and
may not be used in any form without express written permission.