Pet Skunk and Owner Events

4th Annual OOPS Spring Picnic
May 19, 2001
Beltzville State Park
Pavilion #2
Eastern Pennsylvania
12:00 noon




OOPS Newsletter
Owners Of Pet Skunks compiles and publishes a quarterly
newsletter containing informative articles about skunks, human
interest stories, puzzles, information on skunk related laws,
regional and national events, and other skunk related tidbits.

An short excerpt of the club's newsletter follows ...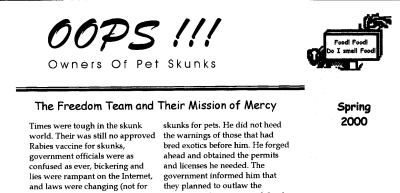 If you would like a FREE copy of the OOPS
newsletter, please fill out the form below ...


Skunks In The News ...
Links to Skunk News Articles on the Net
Stars in stripes (Jacksonville.com)
Pets That Don't Stink: Skunks (Petsmart)
1998 Grand National Skunk Show (Augusta Chronicle)
1998 Grand National Skunk Show (ABC News)


Top »

---
Webmaster: Tacy A. Kessler. Copyright © 2001 OOPS, all rights reserved.
Images, artwork, and verbiage are the sole property of the designer and
may not be used in any form without express written permission.